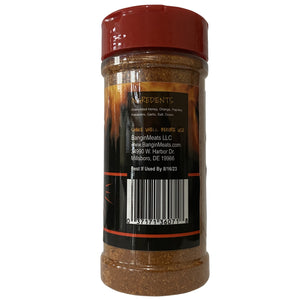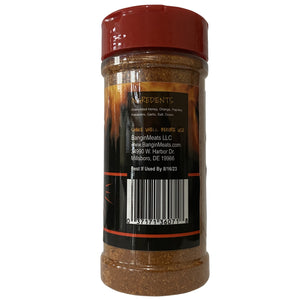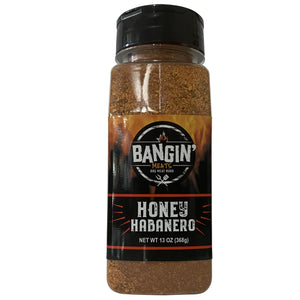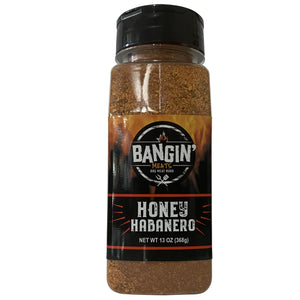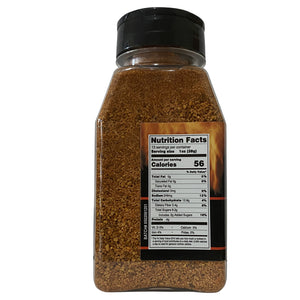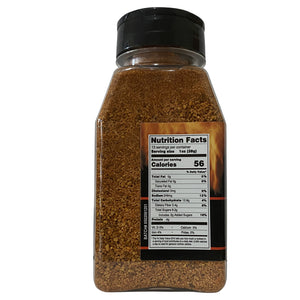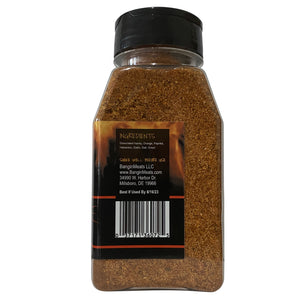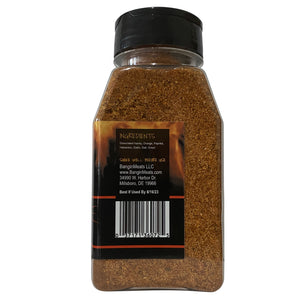 On Sale
BanginMeats HONEY HABANERO Seasoning Rub
Available in 6oz or 13oz bottles.
SWEET BLAST OF HABANERO complex flavor starts off sweet like honey and then hits you with a blast of heat from the habanero.

GREAT FOR ANY MEAT this rub works great with beef, chicken, pork and seafood.

ANY TYPE OF COOKING you can use our rub for grilling, baking or even smoking. Perfect for air fried wings.

HAND BLENDED we make this rub in small batches to guarantee freshness

CARMELIZED CRUST once cooked this rub will create a perfect caramelized crust on any meat you use it with.
Our BanginMeats Honey Habanero Seasoning Rub is a complex mix of flavors starting out with the sweetness of honey and ending with a blast of habanero heat. Our rub is perfect for all types of meat from chicken and pork to beef and seafood. It can be cooked on the grill, baked or even smoked slow and low. Perfect for air fried wings! This rub will create a crispy caramelized crust on any meat you use it on.
We recommend starting with 1 tablespoon per lb of meat. From there you can adjust according to your specific taste. You can cook your meat right after seasoning or allow the meat to sit after seasoning in your refrigerator. The longer youallow it to marinade the stronger the flavor and heat will be.
Other cooking ideas:
·        Stir this into some marmalade that's been thinned out with water and warmed up for a great party dip.
·        Sprinkle over bacon and bake—it will come out flat and crisp, with a delicious glaze.
·        Toss with olive oil over old bread for croutons, or toss over strips of tortilla and toast for a chili topping.
·        Mix with soy sauce and ginger for a dipping sauce for egg rolls.
·        Season French fries, or make a sweet-heat cereal snack mix.
Ingredients:
Granulated honey
Orange
Paprika
Habanero
Garlic
Salt
Onion