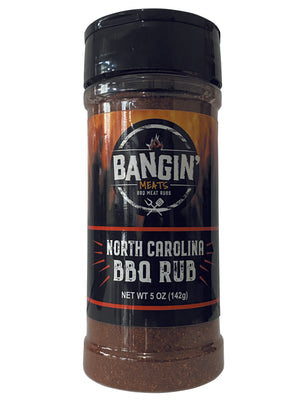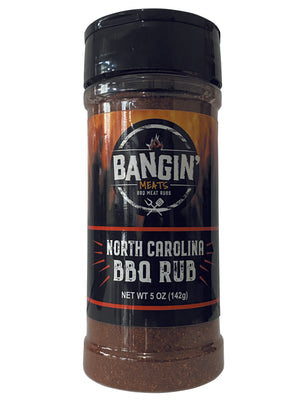 On Sale
BanginMeats NORTH CAROLINA BBQ RUB Seasoning
Available in 5oz or 10oz bottles.
EASTERN CAROLINA BBQ our rub can be used to make a sauce used when smoking a whole hog as they typically do for Eastern Carolina BBQ

WESTERN CAROLINA BBQ favoring a pork shoulder for smoking, our rub can be used directly on the meat or as a sauce when cooking a more Western Carolina BBQ

EXCITING FLAVORS paprika, brown sugar, subtly smoky, earthy cumin; the deep, fruity raisin of Ancho chile; the sharp, woodsy knock from cloves; pine-driven, slightly floral black pepper; and a kick of heat from cayenne pepper.

SMALL BATCHES we blend our BBQ rubs in small batches to ensure freshness and quality of the ingredients.

GREAT ON POULTRY our rub can also be used for chicken on the grill or on the smoker. Also great for a Thanksgiving Turkey feast!
Whether you are a fan of Eastern Carolina BBQ or Western Carolina BBQ you will be sure to love our BanginMeats North Carolina BBQ Seasoning Rub. Our rub can be used directly or made into a sauce per the instructions below. Our fantastic rub can be used on whole pigs roasted over a spit or a pork shoulder slowly smoked in a smoker. This versatile rub can do it all and will not disappoint with its unique combination of flavors from the sweet brown sugar to the fiery ancho chile.
Spread our North Carolina BBQ Rub over pork and roast or smoke slowly for succulent results. Use approximately 1 tablespoon of rub per pound of meat.
Fora great sauce combine 1 cup of tomato sauce, ½ cup of water, ½ cup of vinegar and 2 tablespoons of BBQ Rub. Mix thoroughly and simmer over low heat for 20-30 minutes.
Ingredients:
Brown sugar
Paprika
Salt
Ancho
Guajillo
Black pepper
Garlic
Onion
Cumin
Cloves
Cayenne